6 star hotel on Dam Square – Amsterdam
The signature of interior designer Cris van Amsterdam is clearly visible in the creation of the unique character of Hotel TwentySeven. Together with designer Wim van de Oudeweetering, he forms the design team and designed numerous mood makers and style elements for the most imaginative boutique hotel in the Netherlands. "Hotel TwentySeven is the pinnacle of luxury, as an interior designer there is no more complete assignment imaginable".
"I am proud of my contributions to the special character of perhaps the most evocative boutique hotel in the Netherlands"
For example, Cris designed the reception desk in Onyx, a natural stone from Iran. The counter lights up and shows the beautiful stratification of the millions of years old rock. But also the light sculpture in the atrium are 'resonating lights'. The glass elements are hand-blown in Leerdam and come to life in the evening due to the Dydell light sources that subtly change color, creating a fairytale atmosphere. For the panel doors he drew a beautiful 'mill blade' surface division and for the
His material choices are honest and rich in contrast. Bronze, silk and natural stone, combined with dark stained oak. They reinforce each other and often become more beautiful in use.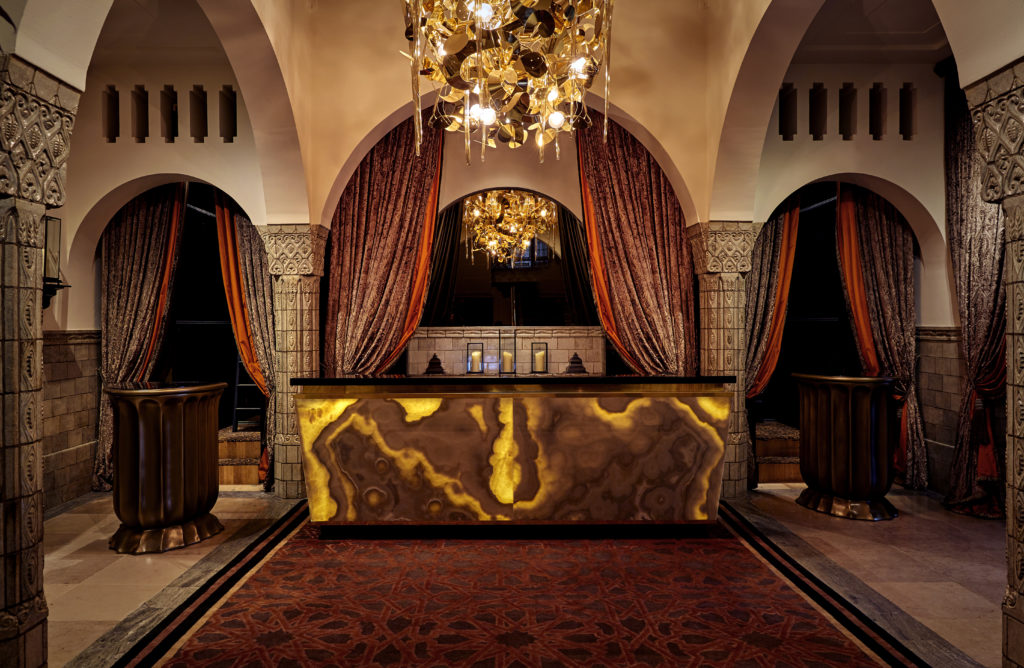 ---
Involved parties:
Verlichting – Brand en van Egmond
Natuursteen – Solid Nature
Sanitair – THG
Stoffen – Pierre Frey
Stoffen – Rubelli of Venice
Stoffen – Etro
Home Couture – Bernie Dekker
Bedden – Nilson

Website: http://www.hoteltwentyseven.com
All images are under copyright ©Cris van Amsterdam